Rebuild Outlook Search Index
Rebuild your search catalog

1. Close Outlook and open Control Panel.


NOTE: Depending on the version of Office you're using, you might need to click the Start button, and on the Start menu, right-click Control Panel. Or on Windows 10 Search for "Control Panel"
2. Do one of the following:

Choose Indexing Options.
In the Search box, type 

Indexing

, and then choose Indexing Options. 
3.  In the Indexed Options dialog box, in Index these locations, verify Outlook is listed, If not use the Modify button to select it. then Return to this screen.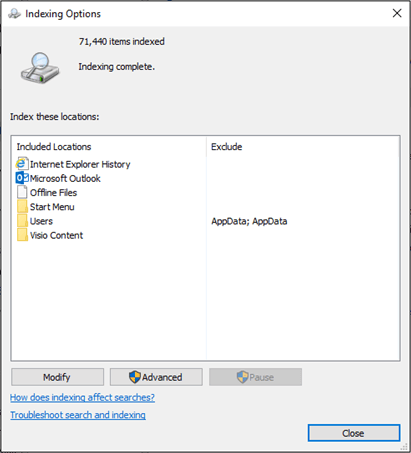 4. Click the Advanced but to get to the Advance Options dialog box, on the Index Settings tab, under Troubleshooting, click Rebuild. 

---
---