Bill&Pay -Setting up Payment Options
Introduction
Step-by-Step to setup/ update payment options for your invoices.
Log Into Bill&Pay
Open https://www.billandpay.com/web/login.php?m=4619&framed=1 and complete login steps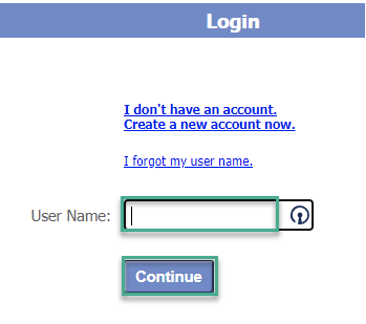 Setting up Auto-Pay via Checking/Savings Account
Invoices paid via Auto-Pay will have a 2.5% discount off the subtotal, applied to each invoice. You will receive reoccurring monthly invoices on the 1st business day of the month. These invoices will auto-pay on the due date, which is 10 days after the 1st.
This will only set up auto-pay for your reoccurring monthly invoices. All other invoices you receive will not auto-pay.
Click "Auto Pay" tab from the top toolbar
Select if you would like to set up a Checking/Savings Account or to pay via Credit Card


There is a credit card convenience fee of 5% of the total invoice.

If choosing Checking/Savings account:

Select account type
Check if it is a commercial or business account
Enter in name and account information

Check mark to authorize automatic payments. Click "Confirm"

Auto-pay is now set up. The charge will auto-pay on the invoice due date.

If choosing Credit Card account:

Enter in name
Enter card number and billing address
Click "Continue"

Check mark to authorize automatic payments. Click "Confirm"

Auto-pay is now set up. The charge will auto-pay on the invoice due date. There will be a 5% convenience fee added to each invoice when paying via credit card.

Payment accounts can be changed at any time by clicking "Auto Pay" in the toolbar
Click "Change Automatic Payment Account"
Follow above directions depending on which account type you select.
You can also print this form: https://www.billandpay.com/business/ach_auth_form.pdf, fill it out, then fax, or scan and email it back to us at sales@technosis.biz and we will enter the information in for you from that form.
Once AutoPay is set up, payment occurs automatically 10 days from the invoice date.
Bill&Pay – Sophos $1 Test Invoice 
Introduction
Your Sophos Central account is being set up, and you would like to set up Auto-Pay.
After Auto-Pay Set up
Once auto-pay is set up, we will test to verify everything is working and the payment can be withdrawn properly.
TechNosis will create a $1-test invoice, which will show up in your Bill&Pay portal.
Do not schedule a payment for this invoice.
Auto-pay will withdraw the total amount of that invoice ($1) on the Due-Date.
Once confirmed, we will create a credit on your first monthly invoice for the
same amount ($1)

The invoice will look like this: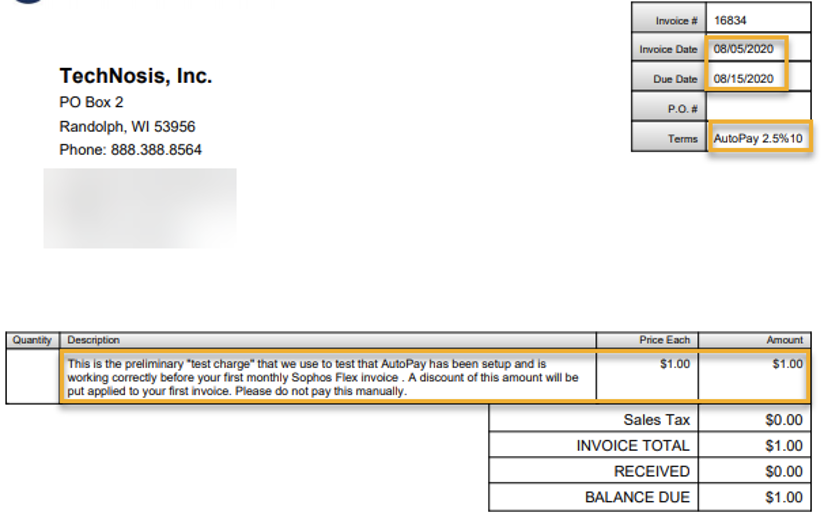 Final Note: If you notice that any part of this Help Doc is not correct in some way (which will eventually happen once Bill & Pay makes some change in its process) please contact us via email at support@technosis.biz and if possible, tell us what section or part is incorrect. Screenshots would be perfect if you are able. We strive to keep things as updated as possible, but the side you are looking at we seldom get the opportunity to see. Thanks very much!
---
---